The 2021 Subaru Love Promise Customer and Community Commitment Award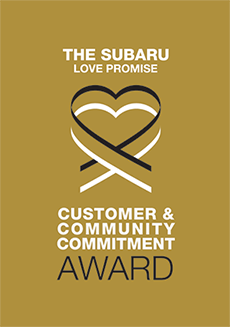 We've been nationally recognized for our dedication to our customers, our community, and the Subaru Love Promise.
We're honored to receive the 2021 Subaru Love Promise Customer and Community Commitment Award. This award nationally recognizes elite Subaru retailers who provide an exceptional customer experience at every interaction with Subaru. These retailers have also demonstrated an outstanding commitment to supporting passions and causes in their local communities in important areas such as the environment, community, health, education, and pets.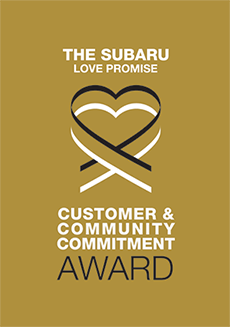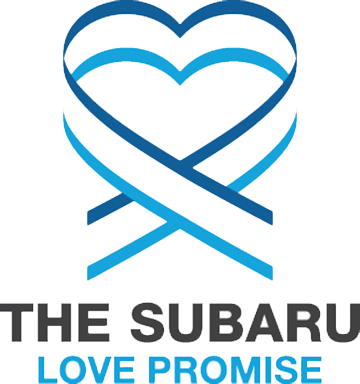 What is the Subaru Love Promise?
Subaru and our retailers believe in making the world a better place and the Subaru Love Promise is our vision of respecting all people. This is our commitment to show love and respect to our customers and to work to make a positive impact in the world.
How is Stuckey Subaru dedicated locally to the Love Promise?
Our Love Promise can be seen in various partnerships with local charities and non-profits. We're grateful for the opportunity, not only to be a part of our community, but to serve it as well.
Love Promise Stories from Stuckey Subaru
Subaru and Stuckey Subaru believe in making a positive impact on the communities in which we live and work. We uphold that belief through our Love Promise Community Commitment. Every month, we select inspiring stories from customers and partners from around our area who strive to support our collective commitment and feature them here
Making Our Community a Better Place - Amy M
DelGrosso's Park has a simple mission statement. Our goal is to provide high-quality food and entertainment in a clean, safe, and friendly environment, at a fair price. By teaming up with area businesses as sponsors of our park, we are living true to the mission that was set 74 years ago. Stuckey Subaru joined forces with us for the 2021 season as a sponsor of our premier event - Summer Thunder. This free fireworks spectacular has become a staple of summer fun and family memories in Central PA. The theme for this year's show was "A Thank You to those who Kept America Going during the Covid Pandemic." At DelGrosso's Park, we love teaming up with businesses who value and understand the importance of giving back to our community and Stuckey Subaru does just that. Each summer at the park we host of number of community events. With help from our sponsors, guests, and the DelGrosso Family, we are proud to support these many non-profit groups in helping to fight cancer, supporting local law enforcement, supplying needed items to our furry friends, and many others. Stuckey Subaru's partnership allows us to keep providing affordable family fun, while also working to make our community better.
---
ABOVE and BEYOND!! - Tim C
ABOVE and BEYOND that's what Stuckey's has done for my charity events. They have been the main sponsor for OFFICE MADNESS that benefits the GIORGIO FOUNDATION even putting a few teams in to play. They have also sponsored my golf outing for RONALD McDONALD HOUSE CHARITIES and put a few teams in. Also being a sponsor for my BACON N BOURBON FEST that goes toward ROOMS FOR RONALD. All of these events are close to my heart. With out their support some of these event wouldn't go on. That is why they GO ABOVE and BEYOND for charity events like mine. THANK YOU ALL TIMMY C
---
Stuckey Subaru partners with Suzapalooza - Suzanne M
Stuckey Subaru is a continuous sponsor of our fundraising event for local cancer patients, Suzapalooza. Thanks to the support of Stuckey Subaru, we have been able to provide support and funds each year to someone who is fighting the biggest battle of their life. We are in our 12th year of holding the event and have been able to donate over $100,000 to our beneficiaries. Stuckey Subaru's participation in our recent events has helped us to go above and beyond for community! Thank you for your dedication to our event!
---
A Pandemic Can't Stop The Love - Jennifer K
The Central Pennsylvania Food Bank has seen an outpouring of support from the community that has been incredible. Thousands of generous individuals and companies have helped to Give Hope Now, but our work is far from over. The Food Bank has seen demand for food assistance increase more than 40% in the past year and expects demand to remain at these high levels for the next two years. With a "strong front" to combat hunger, the Food Bank and its more than 1,000 partner agencies and programs provided over 50 million meals this past year. But community support is what gets the job done - volunteering, donating and raising awareness all contribute to addressing food insecurity across Pennsylvania. Thank you Stuckey Subaru for your generous donation of 125,930 meals to the Central Pennsylvania Food Bank. Together, we can end hunger. https://www.centralpafoodbank.org/
---
Blair Regional YMCA - Phyllis B
The story and mission of the Blair Regional YMCA is For Youth Development, For Healthy Living, For Social Responsibility, it is a story that the Stuckey Subaru Family makes possible for our mission to thrive. The support we get from the Stuckey ownership, staff and support team along with that of Subaru allows the YMCA and our Community Wellness Challenge Series to provide our participants an opportunity to get healthy in both body, mind and spirit. The numerous years that Stuckey Subaru has been by our side as our partner, in not only the race series, but in all ways, is an amazing example of Stuckey Subaru leading by example and showing other businesses in the area that "service above self" is a goal for all.
---
Allegheny Trail Runners - Ben M
For ten years, Allegheny Trailrunners has had a valued partnership with Stuckey Subaru. Allegheny Trailrunners is a running club open to all those who love the adventurous outdoors by organizing a series of trail races and group runs for all abilities, and advocating for trail development throughout the Alleghenies. The partnership has been so strong because Allegheny Trailrunners and Stuckey Subaru both share the same values and love for our region, its people, and its many resources. Not only does Stuckey Subaru's support help provide our races, but at the end of the year Allegheny Trailrunners takes our remaining proceeds from participant fees and sponsorships which are then contributed to carefully predetermined charities and other non-profit organizations. In the past nine years, we have donated almost $100,000 to local organizations. We attribute this humbling byproduct to the amazing support from the valued partnership toward our mission.
---
The Subaru Share the Love Event - Matt U
On behalf of our friends, neighbors, community members, and nonprofit partners here in Blair County, we give our deepest and most sincere thanks to Stucky Subaru for their continued support. United Way of Blair County is honored and humbled to be the Subaru Share the Love Hometown Charity of Choice. The funds raised through this promotion allow us to provide critical community funding where it is needed most. We know that building a better, healthier, and stronger Blair County is a team effort. We know that we're not in this alone and that progress is made when we work together. Year in and year out, Stucky Subaru shows that they care about our community. Year in and year out, Stucky Subaru exemplifies what it means to Live United. For their support, commitment, and friendship we are grateful.
---
Central PA Humane Society Holiday Fundraiser - Becky F
Dear Matt Stuckey and Stuckey Subaru, The Central PA Humane Society fur babies would like to say THANK YOU from their nose to their tails! Becoming an ambassador for the CPHS Fur Babies this year in our holiday commercial was appreciated beyond words. Not to mention the monetary support Stuckey Subaru has donated over the course of 2020! A lot of animals were medically treated and saved because of your kindness and generosity! All of us at the shelter, whether 4 or 2 legged, cannot express our gratitude enough! Donations have totaled more than $20,000 to date from your partnering with us on our Holiday Campaign commercial!
---
A dedicated partner from the very beginning... - Donald R
As we approach the 6th annual Sweat For Vets 10K and 5K trail run, we are overjoyed to say Stuckey Subaru has been a partner all 6 of those years in what has grown to be the largest Veteran's fundraiser in Central PA. A little over 6 years ago, a few Army officers who served together in Afghanistan returned home and decided to start a fundraiser with the objective of raising money for local Veterans and their families in need. They wanted to make the fundraiser family centered, and also involve a challenge or task that would give the sense of accomplishment to those participating. The Sweat For Vets Trail Climb was born, where participants hike up a rugged either 10K for 5K course on the side of Brush Mountain, over rocks, boulders, dirt, mud, fallen trees, you name it, and finish the course in a family friendly picnic atmosphere to celebrate their accomplishment, being congratulated at the finish with a challenge coin presented in a handshake by a local Veteran. Not only has Stuckey Subaru been there behind the scenes leading up to race day, but they have also been present race day each year representing themselves and our community. We, as a board, cannot thank Stuckey Subaru enough and are proud to say as of this year we will have distributed over $150,000 to local Veterans and their families in need. We could not have done this without the continued support of Stuckey Subaru.
---
My story of purchase at Stuckey Subaru - Linda N
My initial contact began with browsing online. I entered information and was contacted by phone immediately. I arrived Friday morning for my scheduled appointment and was met by Tim Park. I was impressed with his warm and welcoming demeanor. He was very knowledgeable about pricing, features and services offered at Stuckey. After test driving a Crosstrek, Forrester and Outback, I selected the Outback. Tim was very professional and personable in meeting my needs. After completing the paperwork he took the time to give me a detailed tutorial of its many great features and even programmed my phone with the Blue Tooth. I received a call Monday morning from Tim regarding my new car to be sure I was satisfied. The gentleman who completed my paperwork also did a great job explaining the many details required in purchasing a vehicle. It was lengthy but necessary and he made sure I understood all the options in meeting my financial needs. The only thing that could have made my experience better was a cute little cuddly Golden Retriever puppy in the back seat. I absolutely LOVE those commercials! I would highly recommend Tim Park as the "go to" guy when purchasing a vehicle. Linda Noonan
---