The 2021 Subaru Love Promise Customer and Community Commitment Award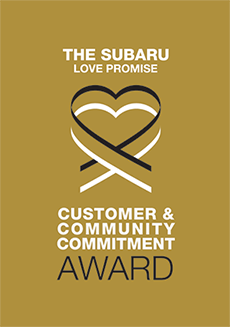 We've been nationally recognized for our dedication to our customers, our community, and the Subaru Love Promise.
We're honored to receive the 2021 Subaru Love Promise Customer and Community Commitment Award. This award nationally recognizes elite Subaru retailers who provide an exceptional customer experience at every interaction with Subaru. These retailers have also demonstrated an outstanding commitment to supporting passions and causes in their local communities in important areas such as the environment, community, health, education, and pets.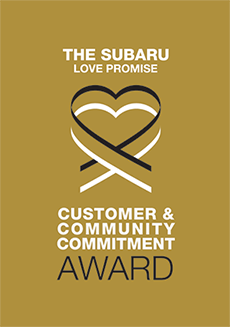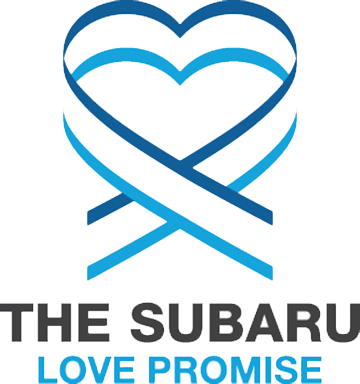 What is the Subaru Love Promise?
Subaru and our retailers believe in making the world a better place and the Subaru Love Promise is our vision of respecting all people. This is our commitment to show love and respect to our customers and to work to make a positive impact in the world.
How is Stuckey Subaru dedicated locally to the Love Promise?
Our Love Promise can be seen in various partnerships with local charities and non-profits. We're grateful for the opportunity, not only to be a part of our community, but to serve it as well.
Love Promise Stories from Stuckey Subaru
Subaru and Stuckey Subaru believe in making a positive impact on the communities in which we live and work. We uphold that belief through our Love Promise Community Commitment. Every month, we select inspiring stories from customers and partners from around our area who strive to support our collective commitment and feature them here
A Pandemic Can't Stop The Love - Jennifer K
The Central Pennsylvania Food Bank has seen an outpouring of support from the community that has been incredible. Thousands of generous individuals and companies have helped to Give Hope Now, but our work is far from over. The Food Bank has seen demand for food assistance increase more than 40% in the past year and expects demand to remain at these high levels for the next two years. With a "strong front" to combat hunger, the Food Bank and its more than 1,000 partner agencies and programs provided over 50 million meals this past year. But community support is what gets the job done - volunteering, donating and raising awareness all contribute to addressing food insecurity across Pennsylvania. Thank you Stuckey Subaru for your generous donation of 125,930 meals to the Central Pennsylvania Food Bank. Together, we can end hunger. https://www.centralpafoodbank.org/
---
Blair Regional YMCA - Phyllis B
The story and mission of the Blair Regional YMCA is For Youth Development, For Healthy Living, For Social Responsibility, it is a story that the Stuckey Subaru Family makes possible for our mission to thrive. The support we get from the Stuckey ownership, staff and support team along with that of Subaru allows the YMCA and our Community Wellness Challenge Series to provide our participants an opportunity to get healthy in both body, mind and spirit. The numerous years that Stuckey Subaru has been by our side as our partner, in not only the race series, but in all ways, is an amazing example of Stuckey Subaru leading by example and showing other businesses in the area that "service above self" is a goal for all.
---
Allegheny Trail Runners - Ben M
For ten years, Allegheny Trailrunners has had a valued partnership with Stuckey Subaru. Allegheny Trailrunners is a running club open to all those who love the adventurous outdoors by organizing a series of trail races and group runs for all abilities, and advocating for trail development throughout the Alleghenies. The partnership has been so strong because Allegheny Trailrunners and Stuckey Subaru both share the same values and love for our region, its people, and its many resources. Not only does Stuckey Subaru's support help provide our races, but at the end of the year Allegheny Trailrunners takes our remaining proceeds from participant fees and sponsorships which are then contributed to carefully predetermined charities and other non-profit organizations. In the past nine years, we have donated almost $100,000 to local organizations. We attribute this humbling byproduct to the amazing support from the valued partnership toward our mission.
---
The Subaru Share the Love Event - Matt U
On behalf of our friends, neighbors, community members, and nonprofit partners here in Blair County, we give our deepest and most sincere thanks to Stucky Subaru for their continued support. United Way of Blair County is honored and humbled to be the Subaru Share the Love Hometown Charity of Choice. The funds raised through this promotion allow us to provide critical community funding where it is needed most. We know that building a better, healthier, and stronger Blair County is a team effort. We know that we're not in this alone and that progress is made when we work together. Year in and year out, Stucky Subaru shows that they care about our community. Year in and year out, Stucky Subaru exemplifies what it means to Live United. For their support, commitment, and friendship we are grateful.
---
Central PA Humane Society Holiday Fundraiser - Becky F
Dear Matt Stuckey and Stuckey Subaru, The Central PA Humane Society fur babies would like to say THANK YOU from their nose to their tails! Becoming an ambassador for the CPHS Fur Babies this year in our holiday commercial was appreciated beyond words. Not to mention the monetary support Stuckey Subaru has donated over the course of 2020! A lot of animals were medically treated and saved because of your kindness and generosity! All of us at the shelter, whether 4 or 2 legged, cannot express our gratitude enough! Donations have totaled more than $20,000 to date from your partnering with us on our Holiday Campaign commercial!
---
A dedicated partner from the very beginning... - Donald R
As we approach the 6th annual Sweat For Vets 10K and 5K trail run, we are overjoyed to say Stuckey Subaru has been a partner all 6 of those years in what has grown to be the largest Veteran's fundraiser in Central PA. A little over 6 years ago, a few Army officers who served together in Afghanistan returned home and decided to start a fundraiser with the objective of raising money for local Veterans and their families in need. They wanted to make the fundraiser family centered, and also involve a challenge or task that would give the sense of accomplishment to those participating. The Sweat For Vets Trail Climb was born, where participants hike up a rugged either 10K for 5K course on the side of Brush Mountain, over rocks, boulders, dirt, mud, fallen trees, you name it, and finish the course in a family friendly picnic atmosphere to celebrate their accomplishment, being congratulated at the finish with a challenge coin presented in a handshake by a local Veteran. Not only has Stuckey Subaru been there behind the scenes leading up to race day, but they have also been present race day each year representing themselves and our community. We, as a board, cannot thank Stuckey Subaru enough and are proud to say as of this year we will have distributed over $150,000 to local Veterans and their families in need. We could not have done this without the continued support of Stuckey Subaru.
---
My story of purchase at Stuckey Subaru - Linda N
My initial contact began with browsing online. I entered information and was contacted by phone immediately. I arrived Friday morning for my scheduled appointment and was met by Tim Park. I was impressed with his warm and welcoming demeanor. He was very knowledgeable about pricing, features and services offered at Stuckey. After test driving a Crosstrek, Forrester and Outback, I selected the Outback. Tim was very professional and personable in meeting my needs. After completing the paperwork he took the time to give me a detailed tutorial of its many great features and even programmed my phone with the Blue Tooth. I received a call Monday morning from Tim regarding my new car to be sure I was satisfied. The gentleman who completed my paperwork also did a great job explaining the many details required in purchasing a vehicle. It was lengthy but necessary and he made sure I understood all the options in meeting my financial needs. The only thing that could have made my experience better was a cute little cuddly Golden Retriever puppy in the back seat. I absolutely LOVE those commercials! I would highly recommend Tim Park as the "go to" guy when purchasing a vehicle. Linda Noonan
---
Stuckey Subaru Delivers Love, Hope, Warmth - Breanna S
After last year's heartwarming visit, Stuckey Subaru was enthusiastic about returning to UPMC Hillman Cancer Center at UPMC Altoona for another year of their "Subaru Loves to Care" partnership. On July 12, Stuckey demonstrated their commitment to these patients by donating 80 cozy new throw blankets, 30 arts and crafts kits, and "care cards" hand-written by customers. The cards, crafts, and blankets will be distributed to patients receiving chemotherapy, who often get cold during treatment, making the blankets a source of comfort even in the middle of a warm summer. Stuckey staff even took the time to personally deliver blankets to patients who were in treatment that afternoon. Hospital staff were surprised and delighted to learn that Stuckey Subaru purchased lunch for everyone working in the cancer center that day, as a symbol of their gratitude for all that these hardworking professionals do for patients each and every day. LLS is grateful to Stuckey Subaru's management, staff and customers for giving their time and resources so generously to cancer patients at UPMC Altoona. Thank you for supporting our mission to cure blood cancers and to improve the lives of patients and their families.
---
Subaru Share the Love Event - Melanie S
We cannot express our gratitude and appreciation enough to Stuckey Subaru for selecting United Way of Blair County as the Subaru Share the Love Hometown Charity of Choice for two consecutive years. Non-profit organizations throughout Blair County often struggle to raise the additional funds needed to meet their budgets. With Stuckey Subaru's help, United Way of Blair County is proud to be able to provide in critical grant funding to these organizations so that they can continue to provide for the needs of our community. The funds raised through the Share the Love campaign allows us to continue to provide this essential funding. Stuckey Subaru has been such an amazing partner through the Share the Love event, allowing us every opportunity possible to promote this fundraising effort. Stuckey's pride for the community is evident in this promotion. By supporting United Way of Blair County through the Stuckey Subaru Share the Love event, 29 Blair County non-profit, human service programs are also supported. We are honored to have been chosen to receive the Share the Love proceeds as the Hometown Charity of Choice for the past two years. From the bottom of our hearts, we extend our most sincere thanks to Stuckey Subaru for helping us build a better Blair County. Most Sincerely, Melanie A. Shildt, Executive Director, United Way of Blair County
---
Thank you, Stuckey Subaru! - Steve K
Thank You to Stuckey Subaru for once again supporting The Giorgio Foundation, especially for being the Main Sponsor for our annual 'Office Madness' event. With your outstanding generosity, this event has raised over $68,000 in 2 years.100% of these funds will be used for medical research into a cure or treatment into NF1, specifically dermal neurofibromas which can cause tumors on the spine, optic nerve, skin, and throughout the body – at times so numerous they cannot be counted. In addition to financial support, Stuckey Subaru staff also attend the event and actively engage in the activities. What a great group of generous, kind, and fun-loving people. Thanks again.Steve Kline, The Giorgio Foundation, Treasurer/Trustee
---
Stuckey Subaru Loves Our Local Animal Shelter! - Becky F
Here at the Central PA Humane Society (CPHS), many tails wag in thanks to the Subaru Loves Pets Campaign, sponsored locally by Stuckey Subaru in Hollidaysburg. Thanks in part to Stuckey Subaru, we were able to raise over a $100,000 – funds that are desperately needed to feed and care for over 1,700 animals as they await their Forever Home. Throughout the years, Stuckey Subaru has graciously supported various CPHS events like Adoption Meet-and-Greets, Food Drives, the Fur Ball Gala, A Night at the Races, and the popular Pints for Pets – the latter of which raises nearly $65,000 a year alone for our fur-babies! Our shelter has an operating budget of over $850,000 per year; mandatory state intake vaccines alone cost the shelter over $150,000 a year. Thanks to the kindness of Subaru of America and Stuckey Subaru, we can continue to aid our innocent four-legged friends! Becky FeltonOutreach DirectorCentral PA Humane Society
---
Stuckey Subaru Surprises Local Cancer Patients - Breanna S
Through their third annual "Subaru Loves to Care" partnership with The Leukemia & Lymphoma Society (LLS), Stuckey Subaru recently made a heartwarming impact on local cancer patients and the dedicated nurses and medical professionals who care for them. Stuckey generously donated 25 arts and craft kits and 80 blankets to the UPMC Hillman Cancer Center at UPMC Altoona. Cancer patients often have difficulty staying warm – a side effect that can be caused by their medication or the disease itself – making the blankets useful gifts. The arts and crafts kits contain crayons, markers, and more, either to help patients pass the time on their own, or – for those who bring their children to treatment with them – to keep small hands busy while they wait. Stuckey Subaru staffers Sara Black, Aubrey Dudley, Christy Nau, and Stephanie Ripple joined the UPMC Hillman cancer team to present the blankets directly to patients on July 13. They took the time to go around the room to personally introduce themselves and chat with patients and families, a small but important reminder to cancer patients that they're not alone in their fight against this disease. "Our patients always appreciate anything given to them," said Marianne Beyer, Senior Practice Manager at UPMC Hillman Cancer Center Medical Oncology. "They are just thrilled when someone thinks of them." Wanting to thank the doctors, nurses, physician's assistants and everyone else who helps patients in their fight against cancer, Stuckey went above and beyond, ordering a catered lunch for the staff on site that day! The patients and staff at UPMC Altoona were incredibly appreciative of Stuckey's thoughtfulness. Stuckey Subaru's management, employees, and customers deserve recognition for their continuing partnership with LLS on this program. Thank you to everyone who made this special day possible!
---
Stuckey Donations Help Altoona Cancer Patients - Breanna S
The Leukemia & Lymphoma Society (LLS) was thrilled when Stuckey Subaru chose us as their partner on the nationwide Subaru of America Loves to Care campaign for the second time. Together, we were able to spread love, hope and warmth to local cancer patients. Throughout the month of June, visitors and employees at Stuckey Subaru wrote personalized messages of inspiration to cancer patients. Stuckey generously purchased 80 cozy blankets and 10 arts and crafts kits, and donated these gifts along with the care cards to patients receiving treatment at the UPMC Hillman Cancer Center at UPMC Altoona. Stuckey Subaru staff took time out of their day to personally share the love that these gifts symbolized, hand-delivering everything to patients receiving treatment on July 21. All of the patients were extremely grateful for this act of kindness. The blankets will not only bring physical comfort, but the encouragement of the care cards also provides patients the comfort of knowing that others in the community are supporting them. The Stuckey employees got to know a few of the patients one-on-one and were impressed by UPMC Altoona's caring and dedicated medical staff. LLS is sincerely thankful to the wonderful professionals at Stuckey Subaru who made this inspirational day possible. You all are helping us make someday, today for cancer patients right here in Pennsylvania! Pictured are Sara Black, Stephanie Ripple, Zoe Lanzendorfer, Mary Longenecker (patient), Ken Wall, and Cathy Milner.
---
Subaru Loves Learning Book Drive August 1 - 31 - Danielle S
Join us in our Subaru Loves Learning initiative during the month of August! We are partnering with the American Association for the Advancement of Science (AAAS) in donating science books to Penn-Mont Academy. All of the books that will be donated have been recognized by AAAS as some of the best science books in their field. Contact us to learn more information.
---
Subaru Loves the Earth - E-Waste Event - Danielle S
We would like to thank our customers for participating in our E Waste Recycling event during the month of April. With your help, we were able to prevent 5,789 lbs of carbon emissions from polluting the atmosphere. This is equivalent to saving 222 trees, 985 gallons of gasoline, 8,392 plastic bottles, and 38,601 aluminum cans. Thank you for helping strengthen the Subaru Love Promise!
---
April 1-30, 2015 - E-Waste Recycling Event - Molly M
Throughout the month of April, we are hosting an E-Waste Recycling Event in our store to collect unwanted electronics. We've arranged to work with a company who will responsibly collect, re-purpose, and recycle your electronic waste. Help us protect our environment. Just show up with your E-Waste and we'll do the rest! The first 50 customers who contribute will receive a complementary environmental badge of ownership. We will accept: LCD Monitors, Cell Phones, Laptops, Tablets, CRTs up to 40", Video Games/Consoles, Fax Machines, DVD/VCR Players, Printers, Computer Peripherals, Switches/Routers, Cords and Wires.
---
A letter of Thanks - Jennifer K
Dear Stuckey Team, On behalf of the Board of Trustees and the Staff of the Altoona Public Library, we wish to thank you for your generous donation towards our annual Basket Bingo. As supporter of the Library, we hope you will not only help raise awareness of our programs and services, but also promote the value of the Altoona Area Public Library as an educational and social foundation from which to build a stronger community. Last year 144,101 people visited the Altoona Library and over 12,500 children, teens and adults attended the 755 programs offered throughout the year. Your donation helps to make these programs possible. Respectfully, Jennifer Knisely Executive Director Engage Innovate Lead
---
Thank You For Your Support - Lanika R
Dear Stuckey Team, We would like to Thank You once again for you generous support of Solar 5, a science 5K run and walk. Without your contribution, this event would not have been as successful, with your help, we acquired prizes for the participants; they brought happiness and a lot of smiles to the faces of the children. Once again THANK YOU for you support of Solars and we wish you the best! With Warm Regards, The Solar 5 Team Saint Francis University
---
Stuckey Subaru & The American Rescue Workers, INC. - Christine M
Stuckey Subaru 500 Broad St. Hollidaysburg, PA 16648 Dear Stuckey Subaru, We are so thankful for the donation raised through the "Subaru Share The Love Event 2014" in the amount of $4,083.29! Not only for the financial but also for the donated non perishable food items for our food pantry. Your support has been very appreciated and needed. With those funds you helped feed 5,536 individuals last year with food from the food pantry. You also helped us prevent 62 families from being homeless in Blair County in 2014 with the aid of financial help. 8,537 pieces of clothing and household items were given to needy families and 163 children received Christmas gifts along with 185 gifts for Seniors. All this and so much more is what your support allowed us to accomplish. Meeting the need of our struggling neighbors is what you have done. Thank you for caring for the community that you do business in.Your support and "Sharing Of Love" has been a big part of this. Sincerely, Captain Christine Martin Commanding Officer
---
The YMCA Race Series Sponsor! - Tina K
Stuckey Subaru Attention: Matt Stuckey 500 Broad Street Hollidaysburg, Pa 16648 Dear Matt, The Hollidaysburg Area YMCA would like to thank you for your continued support of being a Community Partner of the 2015 CWCS. We thank you for your past sponsorship of the series and are thrilled for the opportunity to work with you again. As a sponsor, your involvement has so graciously helped the CWCS succeed in supporting the YMCA to provide fun and safe events while motivating people to get and stay in shape. With your help, we have seen people go from being intimidated at their first race to not only participating, but thriving in our more challenging races, such as the October Half Marathon or the Canoe Creek Triathlon. With your help, families have a healthy option to be active together and make memories that will last a lifetime. The smiles on the faces of our participants when they accomplish something new is priceless. Without sponsors such as yourself, this would not be possible. The 2015 Community Wellness Challenge Series supports the Yâ¿¿s dedication to providing families with further opportunities to learn, grow and have fun together. Each of our races are a fundraising event that allows families and individuals be a member of the YMCA, regardless of their inability to pay. We truly are a community working together for the benefit of everyone. Respectfully, Tina Kunstbeck Race Director
---