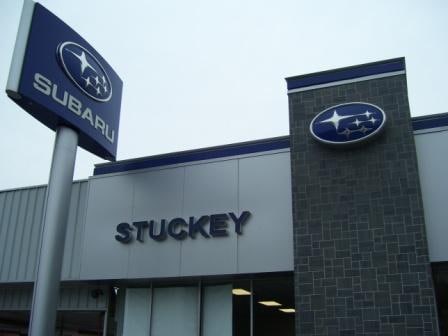 Our Dealership has built a reputation on providing courteous, honest service over our 50 years of selling vehicles in Hollidaysburg. Our customers appreciate the way we do business, and we know you will too.

History of the Stuckey Dealerships
 View Our Stuckey Ford/Subaru website 
Our history predates World War II as Replogle Motor Company.  This was one of several dealerships owned by Fred Beasley from Athens, Ohio.  His nephew, Jack Beasley, owned Jack Beasley Ford on Margaret Avenue in Altoona.
Replogle Motor Company was located on the corner of Juniata and Allegheny Streets in Hollidaysburg, Pennsylvania.  It owed its success to the Ford farm implement business.  Our only fifty year employee, Lloyd Forshey, transferred to work there from Jack Beasley Ford, Altoona, in 1945 to organize a Parts Department.  Lloyd remembers selling a "towmotor" to the U.S. Army Air Force to pull airplanes as part of the war effort.
 Replogle Motors relocated to our present location in 1950 after construction of the Ford Tractor building.  (This is now part of our Collision Center; which was expanded in 1984 and 1991).  The automobile building was constructed by the following year.  Because of its size and rural setting, those in the automobile business considered the two-building facility a "white elephant". 
 
My father, Will Stuckey, visited the mechanics at Replogle Motor Company frequently in the early 1950's to sell them Knapp work shoes, an activity he did on the side to supplement his railroad job.  In 1953 the bookkeeper, Delores Edmundson, took a maternity leave and Will was hired to do the bookkeeping.  Will sold his first car while still a bookkeeper, on the first day of deer season in 1955 (no one else was around because, of course, "no one" buys cars on the first day of deer season!).

Mr. Replogle died suddenly in 1956, and the owner, Mr. Beasley, "threw the keys" at my dad, as he liked to say.  Dad worked night and day.  Our home was right behind the dealership on Lincoln Avenue.  The dealership phone would ring directly in to our home after business hours!  In 1957 my dad and mother (Barbara) traveled to Athens, Ohio, to ask Mr. Beasley for an opportunity to purchase Replogle Motor Company.  That same year we sold our nice brick house, furniture and all, so Dad could have the needed cash (50%) to buy the Beasley assets.  Will Stuckey Ford was incorporated in 1959.  Dad grew the business through vision and unrelenting hard work.  He won many sales and service awards.  In 1971 Dad bought the adjoining Esso Gas Station and house from Woodrow Smith.  He built a new building next door to start Holiday Wheels, a Yamaha Motorcycle business.  This was later closed in favor of a dedicated Ford truck sales and service effort soon to follow in 1974.
I was first employed in the car wash bay as a twelve year old in 1965.  I vividly remember cleaning all those red-hot Mustangs for delivery!  In 1973 Dad brought a talented sales manager from Jack Beasley Ford into the business, Cody Emes.  I was then a sophomore at Wheaton College in the Chicago area with no plans to return to the Hollidaysburg area. 
 In 1976 after graduating from college and working in the Chicago area for a year, I returned to sell trucks in the newly opened truck sales and service operation.  The business was growing rapidly with Cody's promotional and sales abilities.  Here, I fell in love with the business and was able to grow in sales and management experience until 1986 when I had the opportunity to become the general manager of what was then Stuckey-Emes Ford.  This same year I was able to purchase five acres adjoining the dealership on the west from our neighbor, Paul S. Vipond.  This area now comprises our Ford display area, and our truck repair shop.  Also that year Cody had an opportunity to buy his own dealership in the Pittsburgh area.  In September 1987 I purchased Cody's interest in Stuckey-Emes Ford, soon to become John Stuckey Ford. 
 
June 7, 1988, my dad went to be with his Lord very suddenly at the age of sixty.  In April of 1988 we opened an expansion of our truck repair facility and in 1991 we enlarged and upgraded our collision repair facility to pursue the changes coming in the direct repair insurance industry.  Investment in technical equipment/training and our focus on customer satisfaction have given us a growing and loyal clientele.  Ford Motor Company has recognized John Stuckey Ford with their President's Award and North American Customer Excellence Award.
In 1996 the sales operation was reorganized to pursue used vehicle sales in a greater way.  Used cars and trucks were combined in a newly renovated sales facility on the far west of our campus.  In April of 1999 our customer service departments launched an expanded effort offering 60 hours of weekly convenience and low-price guarantees.

 In February of 2003, my oldest son Matthew returned to the area to join the sales team.  Matt graduated from Messiah College and worked for M&T bank in the Harrisburg area for almost two years.

 In November of 2006, we had the opportunity to take on the Subaru franchise from Condrin Subaru in Altoona.  The new customer base has been a distinct pleasure to serve and we really enjoy having this new namepate out here in Hollidaysburg.

My dad, Matt, and I have tried to honor God with our lives and our work.  He has provided us with tremendously talented and dedicated associates to help us in our mission.

The Stuckey Ford and Stuckey Subaru team looks forward to a rapidly changing future with the desire to be leaders by our "willingness to serve."
About Stuckey Subaru - New and Used Subaru Cars in Hollidaysburg, PA near Johnstown, State College and Altoona, PA

Stuckey Subaru is located in Hollidaysburg, Pennsylvania. Our Subaru dealership has a great selection of new and used Subaru cars. If you're searching for a new car, browse our inventory for the Subaru Ascent Forester, Outback, Legacy, Impreza and Crosstrek. If you would like to test drive any of these models, come down to 500 Broad Street.
If, instead, you're looking for a used car in Hollidaysburg, PA, we can help you there too. Browse our large selection of used Subaru cars as well as vehicles from other top manufacturers to find the right car for you.
At Stuckey Subaru, we don't just sell cars, we provide a complete car buying experience. We provide our customers with everything from car repair services, auto parts sales to car loan and lease financing. Come visit us today at 500 Broad Street and let show you how easy the car buying experience can be at Stuckey Subaru.